Brenda Ryder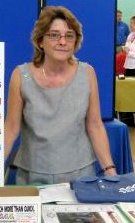 Brenda Ryder, Owner and Vice President of Operations, has over three decades of experience working in the printing industry.
A tireless advocate for animal rights, Brenda continues to be heavily involved with local animal rescue organizations such as Big Cat Rescue and The Rescued  Rescuers for whom Carrollwood Copy Center has developed custom calendars to aid in a number of animal rescue charities. 
With over 30 years in the printing industry Brenda is able to lend her expertise to any printing project.
Brenda can be reached at brenda@cccopies.com.